Ultra Light System
ULTRA LIGHT IS USED FOR BUILDINGS WITH IRREGULAR WINDOWS AND OPENINGS AND A LARGE QUANTITY OF PROTRUSIONS AND BALCONIES:
Ultra Light is a system based on the following generic layers of outer covering:
- Building wall in reinforced concrete or brick;
- Insulation with water-repellent layer;
- Adjustable anchoring brackets fixed to the wall with plugs or Halfen connectors;
- Vertical uprights;
- Horizontal beams;
- Vertical load transfer profiles anchored to the cross beams;
- Structural joint;
- Safety mesh (optional);
- Ultra slab;
- Mechanical retainer if required (recommended).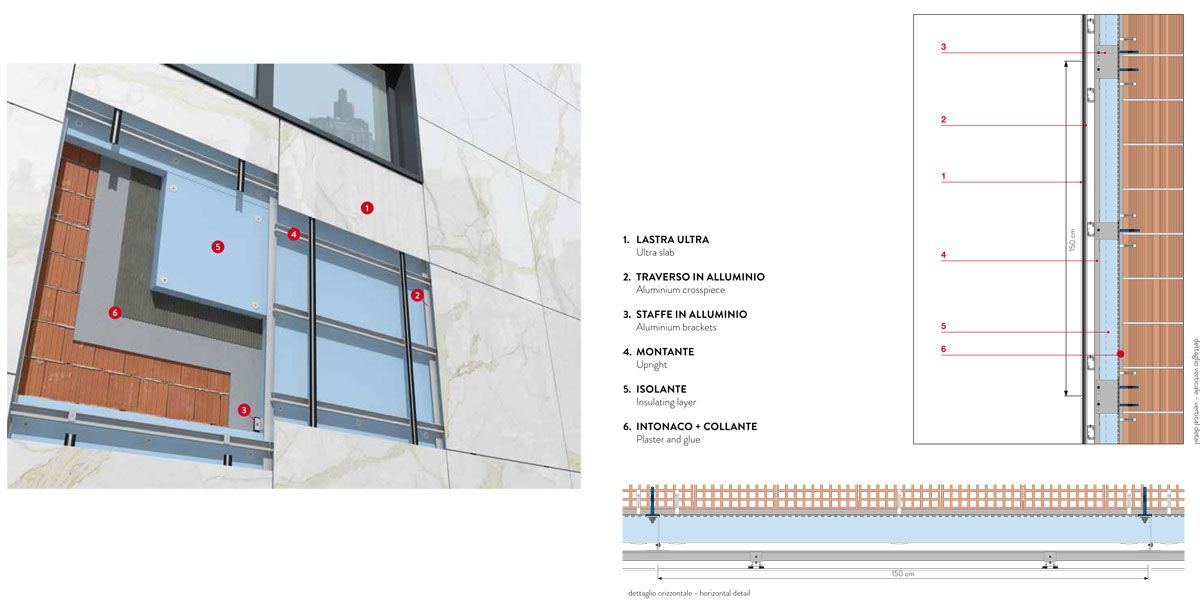 ULTRA LIGHT SYSTEM LAYING SEQUENCE
HAVING ESTABLISHED THE EXECUTIVE DESIGN OF THE FAÇADE, THE ULTRA LIGHT SYSTEM, COMPARED TO THE ULTRA FRAME, REQUIRES THE LAYING OF A GRID ON THE FAÇADE, AND WORK CAN BEGIN ON SITE TO MOUNT THIS WHILE THE ELEMENTS ARE BEING PREPARED AT THE FACTORY.
In most cases, the size of the Ultra Light panels allows the use of conventional scaffolding.
A typical installation sequence can be described as follows:
- Fitting of mechanical anchorages on the wall to be covered (generally brackets and plugs)
- Raising the materials
- Sealing and tightening the brackets
- Laying the insulating layer, if required
- Laying the vertical uprights
- Laying the horizontal beams
- Mechanically anchoring the panels to the beams
- Finely adjusting each cell in the two main directions
- Closing the ventilation gaps with grilles
- Fitting the terminal elements and window intrados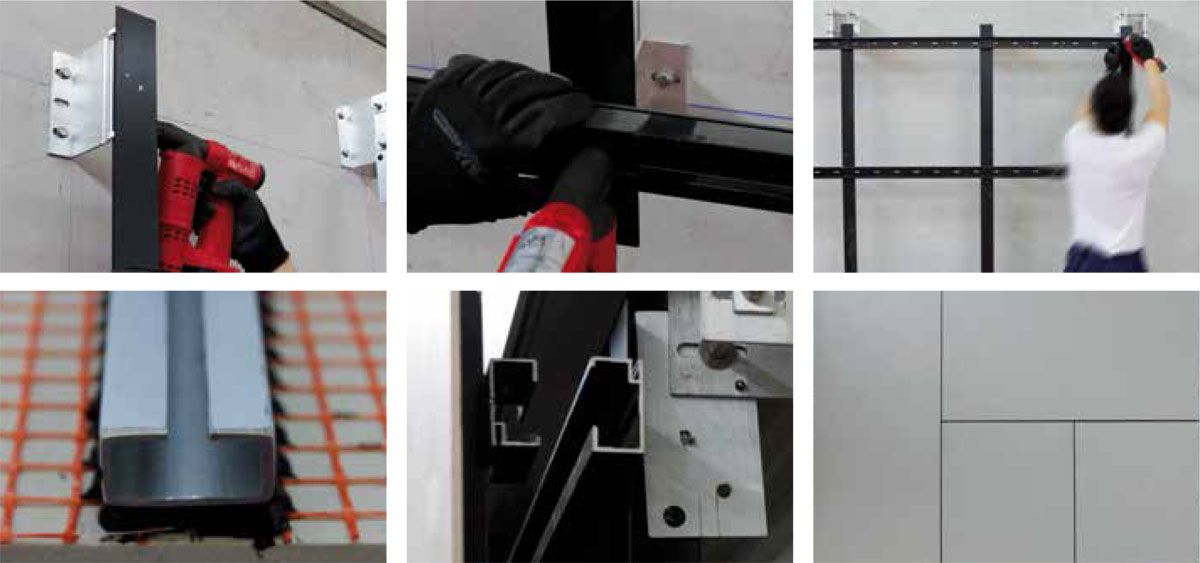 ULTRA LIGHT SITE LOGISTICS
In most cases, the size of the Ultra Light panels allows the use of conventional scaffolding, and site logistics are therefore very similar to those
for assembling traditional ceramic ventilated façades; as an example the following families are indicated:
| | |
| --- | --- |
| Access for staff working at a height: | Handling and laying: |
| - Fixed scaffolding | - Site crane |
| - Mobile scaffolding | - Mobile crane |
ULTRA LIGHT COVERING SYSTEM SIZE RANGE AND USE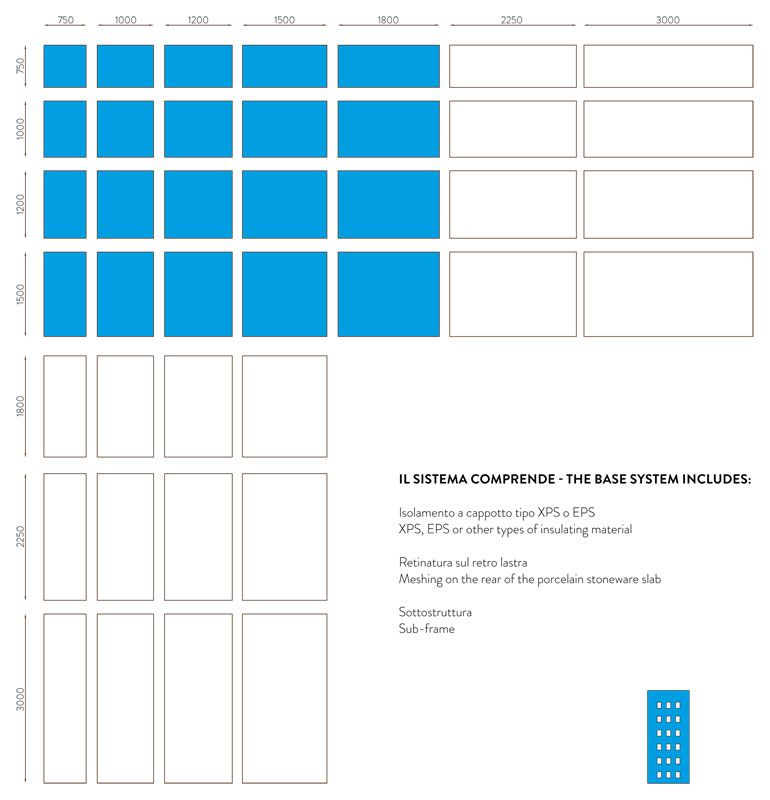 NOTES: The size range is purely indicative, as external coverings can be produced using slabs of all sizes (up to 180x150 cm).
The key refers to the height above ground of the building.
XPS: Extruded polystyrene
EPS: Sintered expanded polystyrene