Micro System
The Micro system involves the assembly of thin porcelain stoneware slabs onto a rear-ventilated covering; it belongs to the family of ventilated facades due to the cavity wall which is created using a metal sub-frame that keeps the porcelain stoneware covering at a distance from the wall facing.
Compared to ventilated facades with mechanical anchoring, however, this system uses a chemical-adhesive metal sub-frame to fix the slabs. The slabs are assembled using a highly elastic permanent adhesive and a double-sided adhesive assembly tape which, together, fix the covering invisibly to the wall.
The Micro System is composed of an external cladding made by Ultra slabs, a ventilated cavity, within which a thermal and/or acoustic insulation layer can be placed (in order to improve the facade energy efficiency), a metallic substructure, made by aluminum omega profiles mechanically anchored to the wall, which supports the loads transmitted by the substructure and the forces acting on the cladding panels.
Given the flexibility and special features of this system, it has to be designed specifically on a case-by-case basis.

MICRO SYSTEM LAYING SEQUENCE
When laying this system, developed directly on site, the special installation procedure must be followed, complying with the climatic conditions and work site conditions for correct installation, which must be done by suitably trained laying teams.
The installation procedure is provided with the laying materials. It is advisable to keep a gluing record and use appropriate instruments to record the climatic and work site conditions.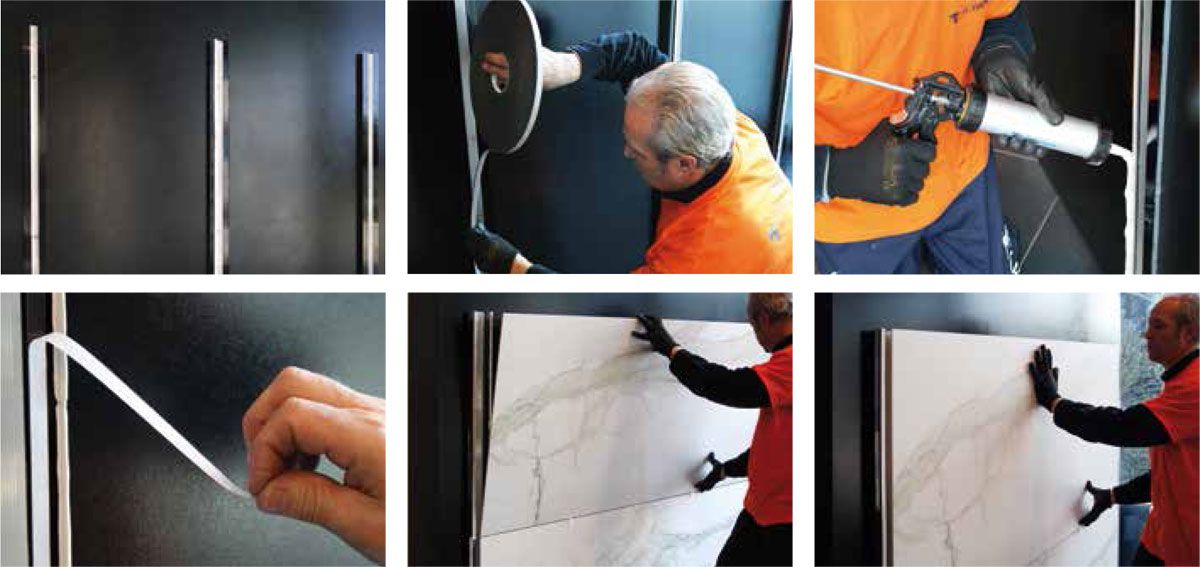 MICRO SYSTEM USE
The Micro system can be used in any new build or renovation, up to a maximum height of 20 metres.
The possibility to include an insulating layer in the facade increases the energy performance of the system, so it can also be used in projects that require the heat insulation of the building envelope in order to achieve certain transmittance values of the vertical envelope components and meet the building's energy requirements.
It should be underlined that in the case of new builds or large-scale renovations, the above-indicated performance requirements are obligatory and that incentives in the form of tax deductions may be available for energy efficiency measures.
The diagram below describes the size ranges and some key indications for gluing Ultra slabs on outer walls depending on their position on the facade. The size range is purely indicative, as external coverings can be produced using slabs of all sizes (up to 300x150 cm).
MICRO COVERING SYSTEM SIZE RANGE AND USE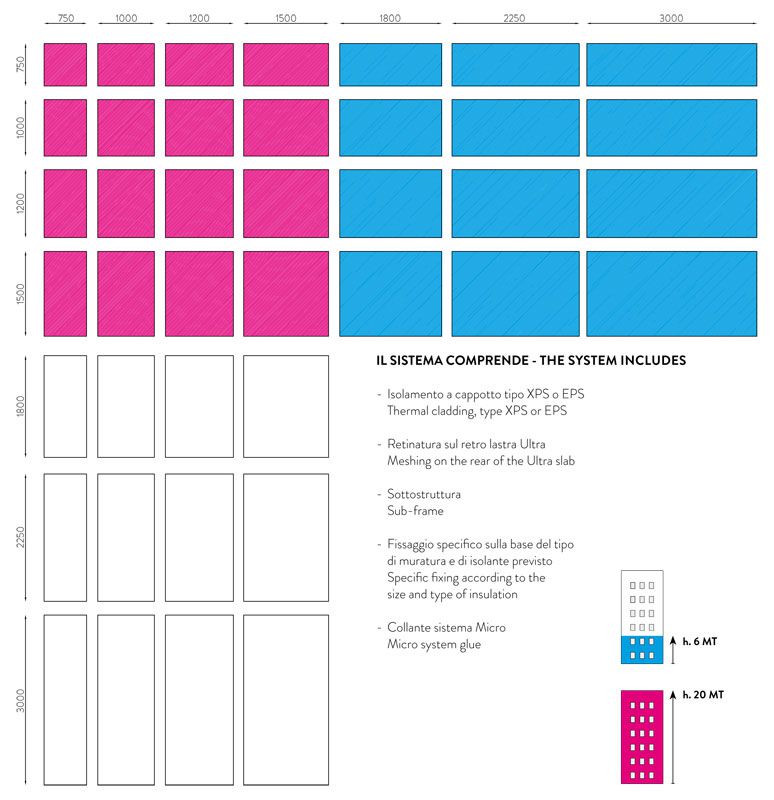 NOTES: The size range is purely indicative, as external coverings can be produced using slabs of all sizes (up to 300x150 cm).
The key refers to the height above ground of the building.
XPS: Extruded polystyrene
EPS: Sintered expanded polystyrene