Formats, thicknesses and finishes
SURFACES AND FINISHES
LUCIDATO SHINY - LEVIGATO SILK - SOFT - STRUCTURED - PRELUCIDATO - NATURAL - GLINT
The richness of the Ultra surfaces is enhanced by providing the largest slabs ever produced with an elegance of polishing combined with the incredibly contained thicknesses.
A fine, unique and surprising surface fi nish. The incomparable silky effect of the special silk polishing is achieved through an exclusive series of mechanical processes, similar to those that form naturally occurring surfaces, and cannot be obtained with enamel or artifi cial applications.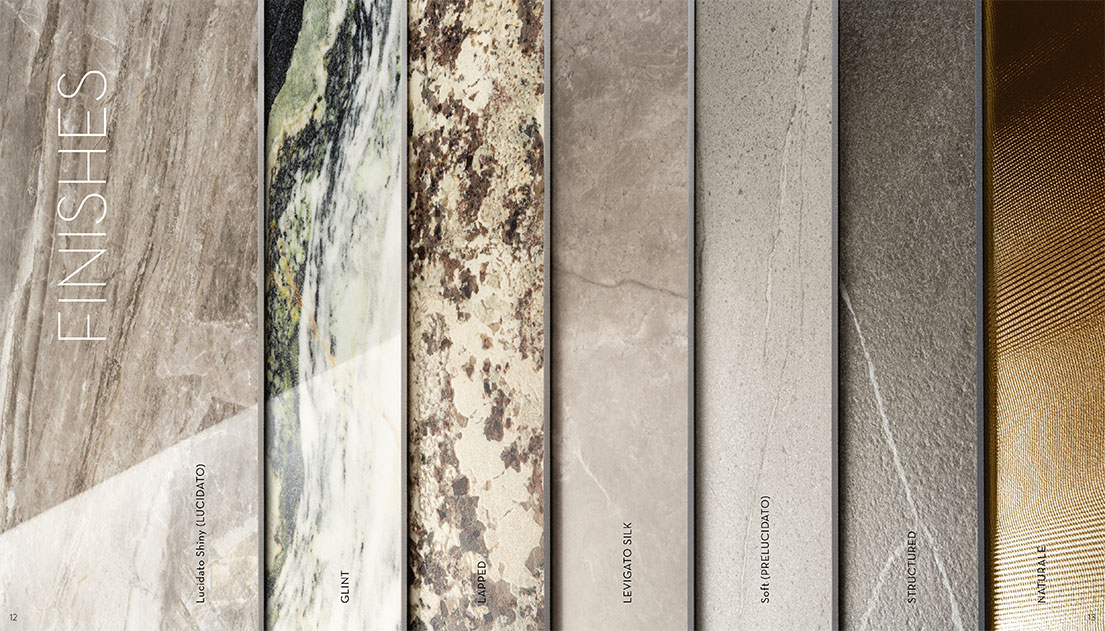 SIZES, THICKNESSES
To make Ultra technology more and more flexible and adaptable to different application needs, all the collections based on the native sizes of 300 x 150, 300 x 100 cm are available with a thickness of 6 mm.
The flexibility of ULTRA technology allows the various product collections developed by Ariostea to be completely adapted to generate projects ranging from simple flooring or coverings for large or small surfaces to object-based applications and furnishing accessories. Using this new concept that combines light weight and technical performance, it is now possible to create genuine products or installations with the added benefits that come with ceramic technology. The very nature of the material also lets designers apply each of these possibilities in indoor and outdoor environments to develop smooth, curved and even backlit surfaces.
BIGGEST
With its area of 4,50 m2, ULTRA is the new industry standard for project designers and for all projects where dimensions make the difference.
TAILORED
ULTRA offers unmatched project flexibility and the freedom to give concrete form to your ideas without being shackled by size.
LIGHTEST
Thanks to its native 6 mm thickness, ULTRA provides lightness and strength in all applications - even the ones you'd never even imagined.
100% MADE IN ITALY
All of ULTRA's materials are devised, produced and processed exclusively at the Castellarano-based works in Reggio Emilia. This is not only an unrivalled guarantee of quality and design, recognized and sought worldwide, but also further proof of how closely we monitor all the processes undergone by our products. /